Salad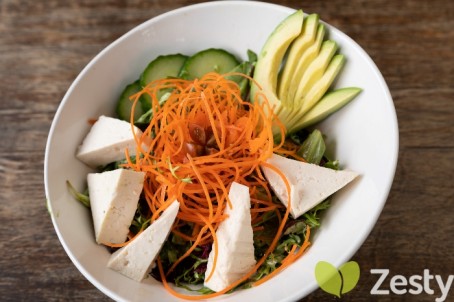 Sunomono
Thinly sliced cucumbers pickled in sweet dashi vinegar, topped with wakame and sprinkled with sesame seeds.

Add octopus for $3.00

Gomaae
Blanched organic spinach tossed in sesame dressing.
Ocean Salad
Wakame seaweed salad.

Tofu Salad
Tossed organic greens with tofu, avocado, tomato and sprouts with creamy sesame dressing.

Salmon Skin Salad
Crispy salmon skin on a bed of organic spring mix, w/ avocado, tomato, cucumber, carrots and ponzu dressing.

Ahi Tuna Tataki Salad
Seared ahi tuna, tomato, avocado, kaiware sprouts, cucumber, carrots on a bed of organic greens in apple-ginger dressing.